CMS: Combustion Made Simple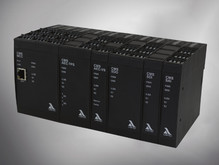 The CMS offers absolute flexibility in the design and control of your combustion control system. CMS incorporates up to 18 analogue inputs (or 9 failsafe), 41 digital outputs, 60 digital inputs, and 10 channels for actuator/drive control depending upon module hardware configuration. Internally, CMS can provide up to 16 individual fuel curves, each controlling up to 10 channels/actuators with 20 setpoints per channel on each channel curve, depending upon the chosen hardware/software configuration. A soft PLC side to the CMS that allows for non-failsafe user programmable functions that can be assigned to the I/O matrix within the CMS using Codesys PLC for additional input/output operations.
CMS Combustion Management System Combustion Management System – The Evolution of Combustion Management
Whether it be a standard industrial combustion or complex process application, LAMTEC's revolutionary CMS Burner Management System sets new standards in control automation.
Modular: The CMS is simple and easily configured to meet a wide and varied range of application requirements from small industrial burners to large complex systems; everything is controllable.
Safety: Modules are connected via a failsafe LSB LAMTEC SYSTEM BUS.
Communications: The CMS uses MODBUS TCP as a standard interface. Additional fieldbus communications such as PROFINET, PROFIBUS and MODBUS RTU are also supported.
Simple: At LAMTEC, CMS stands for 'Combustion Made Simple'; underlining the intuitive graphic-based user interface.
Customisable: The standard graphic user interfaces are the simple UI400 and the 7" GUI607 colour touchscreen. However, the CMS is very flexible with HMIs and both 10" (GUI610) and 15" (GUI15) colour touchscreen panels are also available for delivery. Furthermore, it is possible to
connect additional HMIs to allow control at different site locations.
Versatile: Integrated Soft -PLC (CODESYS) for non-failsafe
control assignments.
Flexibility: Inputs and outputs from the burner system can be freely assigned to the CMS modules.
We would be happy to assist you in selecting the proper configuration for the CMS.  For more information please contact our main office by phone or email.
(651) 318-1011
[email protected]